Posted by: Ken Bolton 10 years, 7 months ago
CU and I slid into the traditional kayaks around 2pm on Saturday, April 27. The air temperature was just over 70F, and the water was just over 50F. We paddled six miles round-trip in a gentle 5 knot breeze against the very tail end of the flood. When we got down to Bannerman's at a leisurely pace of about 2mph, the current was visibly beginning to ebb over the walls of the tidal pool. On our slow return to Long Dock, we ran into DG and her flotilla of paddlers. A great treat: we saw two bald eagles soaring over the waters between Denning's Point and the shore.
CU is really into stand-up-paddle (SUP) boards. I wanted her to try a traditional Greenland kayak and paddle to get a better feel for how the paddle and boat interact with the water. We talked about the skid and carve turns, canted-blade stroke, torso rotation, keeping the elbows in tight, the importance of a loose grip, and resisting the urge to have the arms and shoulders do the work in favor of the big muscles in the legs and stomach.
These "slow" trips have been really good for me. They encourage me to focus a great deal of attention on my posture and how my blade and boat attack and interact with the water. I did a hard-leaning cross-bow pry that skidded me around a full 180 degrees with a little forward momentum to spare. As a demonstration, I did a bunch of blended strokes to show how the paddler can start with a stearing stroke and transition it into a forward stroke.
CU got a lot out of it. Hours later when we discussed the trip, she noted that her back and shoulders were less sore than she normally experiences from paddling, but her wrists were feeling it some. Remedy: loosen that grip. With heavy neoprene gloves on, the only sense that comes into contact with the paddle is vision; I can't feel the paddle beneath the gloves, the padde enters the water without felt or heard resistence, and the boat slides past the paddle so smoothly their is no sensation of pull on the paddle.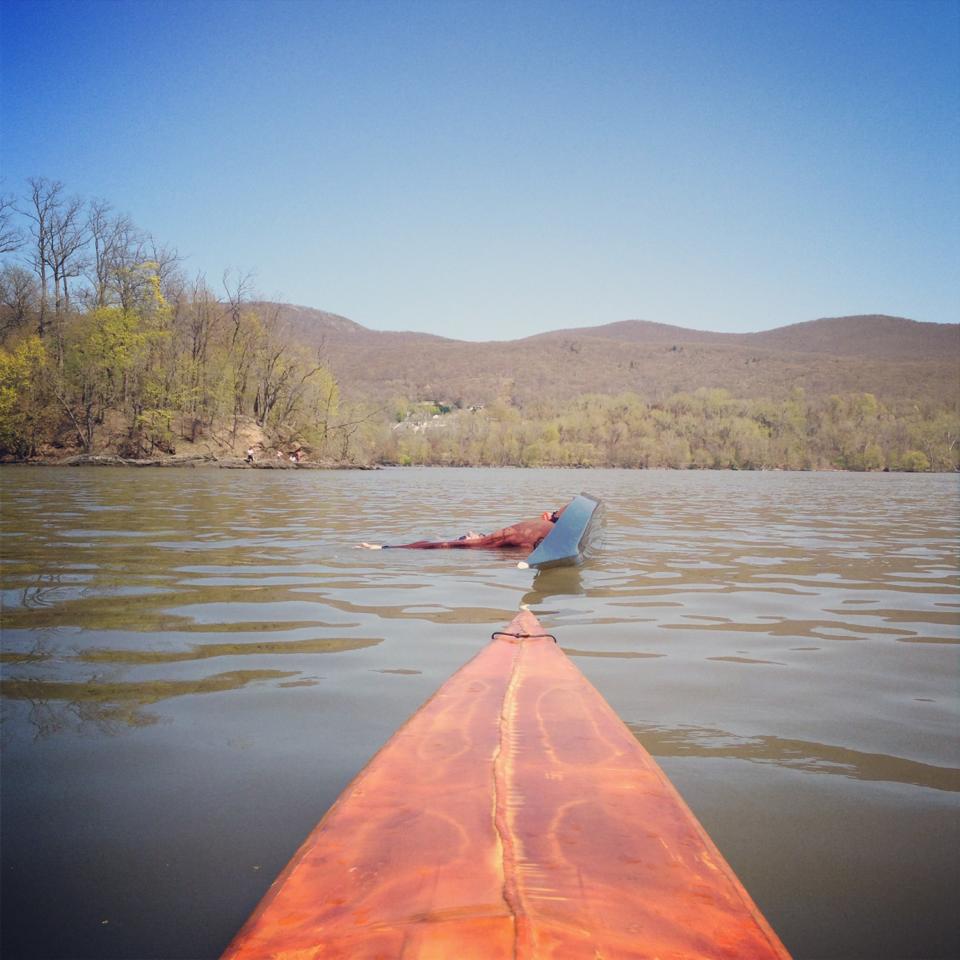 The documentary evidence, a maneuver I think of as the deep stretch in shallow water.
A great feature of our "big government", NOAA publishes excellent online coastal charts. The Hudson River from Wappinger's Creek to the GWB is required reading for local boaters.
Share on Facebook